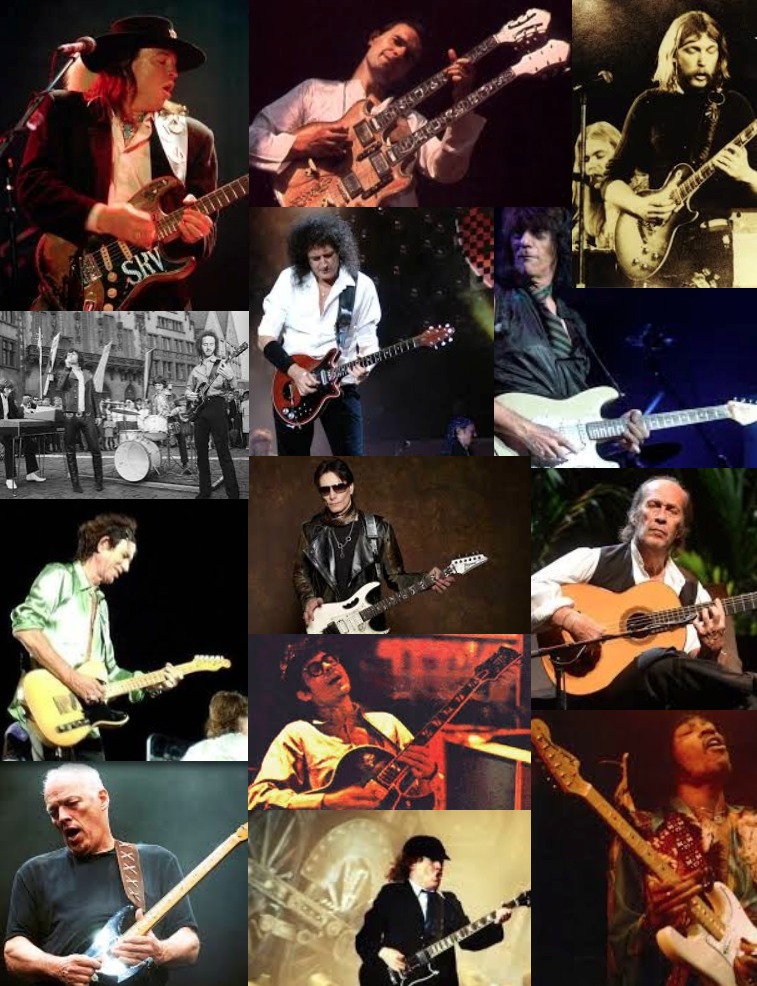 Why take guitar lessons.
  Playing guitar is one of the most interesting & rewarding activities a person can do, and it's a wonderful instrument to start at any age. I'm very experienced at giving lessons to adult students. It's not difficult, all you need is some free time. If you're an adult and you find yourself on this page chances are you've thought about playing guitar for a long time and probably even own one. You may have even aspired to create your own music or play lead guitar. I'll help you learn how to play like your favorite guitarist. Having had many adult students through the years I've developed a teaching technique that, if you practice, gives results that will amaze you.
 How I teach guitar.
 I tailor my lessons to the desires and goals of each student. Beginners are started off with a combination of traditional note reading and recognizable popular songs with the emphasis on making playing fun. The rock songs I teach are written out in TAB (guitar tablature) which is the way most guitarists communicate with each other. The challenge for me is to get your mind and fingers to the point where you can play songs fast enough to be recognized. Adults expect this to happen quickly and are disappointed if it doesn't. With children it's different. They basically do what they're told and if it takes six months to a year to get to a certain level it's not a problem. In my years of experience I find some adults will complain about the amount of time it takes to play their first recognizable song. The reason for this is in learning something from scratch sometimes, in order to be successful, we have to go back and channel the mindset of a child. A lot of adult beginners have a problem with this. They feel that 40, 50 or 60 years of life experience should enable them to learn faster than a child. The reality is that as we age our ability to learn slows down. If you're an adult with slow-moving fingers guitar will be even more of a challenge. As long as you understand these things and realize you have to keep practicing and have realistic goals you'll do alright and enjoy your new hobby.
 The instruction books I use reflect the level I feel you can handle. I try to make lessons as enjoyable as possible and I'll teach you popular guitar-based songs as soon as you're technically able. Eventually I'll encourage you to pick some of your own popular Rock'n'Roll songs to learn. Each student learns at a different level. In over forty years of experience, I've developed a very patient teaching style and I never belittle or discourage a slower student. Neither fast nor slower learning speeds pose any problem to me. If you really enjoy playing and your present guitar may be holding you back, I'll suggest getting a nicer acoustic or maybe even an electric guitar and amp.
What are the qualities of a successful adult student.
 As an adult beginner the main thing you must have to play guitar well is time. All students must spend time playing their instrument. I always suggest half an hour, at least four times a week. This will give you around two hours a week added to your regular half hour lesson. If you practice more than this you'll progress faster. A fast mind and fast fingers are also useful. Usually a person that can type quickly will have an easier time playing the guitar than a person who can't.
 What can you expect from lessons.
 It's impossible to predict how successful a student you'll be. I'll try my best to keep you interested and moving forward, but some people don't like to practice or simply don't have the time. You will get out of guitar lessons what you put in. Any amount of time spent playing is directly proportional to an increase in your ability level. Even 5 minutes a day is better than nothing. But you must practice.
Where are the lessons given.
 I give lessons in your own home as this is not only convenient but helps you to feel comfortable during the lesson. Many adult students want lessons in my studio and if you prefer this I'll find a time that's good for you.
 How are payments arranged.
 Each lesson is one half hour long and you pay me at the end of each lesson. You'll not be charged if a lesson is missed, but I do ask that cancellations be made up. I have convenient openings. Please call me at  (914) 741-6321 and we'll set up a time to meet. I look forward to hearing from you… Thanks.
Call 914-741-6321 and please leave your;
1. Name of student
2. Phone number
3. Town where you reside
Very Important: If sending an e-mail please put "Guitar lessons – Adult Beginner" in the subject line.